✌
Mixed
Pack
new
✌
Mixed
Pack
new
Rosé & Red Mixed Pack
750ml
Rosé
Beaujolais Gamay
SOLD OUT
Bummer Summer! This product is currently out of stock. Give us your email and we'll let you know if we find a few bottles lying around.
Thanks for signing up. We'll notify you when this is back in stock!
Oops. Something went wrong!
Please try again later.
Description
For those that like to keep their options open, this pack offers the best of both worlds.
Summer Water is a dry Rosé made from grapes grown on the central coast of CA. We pick our grapes early in the harvest season to achieve a natural acidity and light, refreshing taste, that's guaranteed to bring the sunshine no matter the season.
Keep It Chill is a light-bodied French Beaujolais Gamay that was designed to be served chilled (gasp!). Made from grapes vinified 4-5 months in concrete tanks, this party-ready red has a vibrant style and bright, brambly flavors that pop when the temperature drops.
Unfortunately, due to state restrictions, we cannot ship the Rosé & Red Mixed Pack to AZ, AL, AK, AR, CT, DE, HI, IL, IA, KS, KY, LA, ME, MD, MI, MS, MO, NJ, OH, RI, UT, or Dry Counties.
Tasting Notes

Summer Water (2021):
Lime zest
Pink grapefruit
Strawberry
Watermelon

Keep It Chill (2020):
Cinnamon
Raspberry
Cranberry
Dark plum
Pairs with

Summer Water pairs great with lighter fare, like oysters and salad, while Keep It Chill plays nice with just about everything from red meat, to fish, to charcuterie.

Both options are made for easy drinking, so we say, go with whatever you're feeling.
Serving Facts

Summer Water (2021):
108 cal, 3g carbs, 0g protein, 0g fat (per 5 fl. oz. serving)

Keep It Chill (2020):
120 cal, 4g carbs, 0g protein, 0g fat (per 5 fl. oz. serving)
Can everyone chill?
The hottest trend in winemaking right now is - you guessed it - chillable reds. If your wine-purist father has a panic attack at the sight of you pulling this out of the fridge, just tell him to chill. We know what we're doing.
More than just the Rosé of the season.
Don't let the name fool you - this award-winning blend is perfect for year-round drinkability. We like to think of it as 'seasonally-agnostic' - a term we just made up right now.
Skip the sweet talk
If you like your wines sugary sweet, these are not for you. Summer Water and Keep It Chill are dry wines with 0g residual sugar. Legally we can't say they won't give you a hangover. So we're not saying that ;)
Customer reviews
Customer Reviews
Write a Review
Ask a Question
07/08/2022
Karen S.

United States
My new favorite wine
This wine is light and refreshing while still being full of flavor. I love that it's sugar free —which helps too!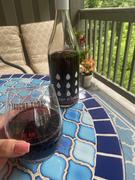 07/06/2022
LINDA J.

United States
RED MIXED & ROSE'
ABSOLUTELY FANTASTIC!!!!!!!!!!
06/29/2022
Kaitlin H.

United States
Best of both worlds
I love both of these wines, so this mixed pack was a no-brainer. Great for fans of the brand, but also great for those who may have never tried Summer Water and Keep It Chill before!